This is a list of notable SCP games in order of release date. It is moderated by fellow fans of the SCP-Foundation community and other members of the SCP-Wiki site.
If you post any malicious software/links on this list, it will be removed.
Ratings are determined by a group of selected SCP-Foundation fans, and use the following scale:
| | |
| --- | --- |
| ★★★★★ | Very Fine SCP Game |
| ★★★★ | Fine SCP Game |
| ★★★ | 1:1 SCP Game |
| ★★ | Coarse Game |
| ★ | Rough SCP Game |
| ☆ / Pending | Not yet rated |
When submitting a game to the this list, Please type [☆] or [Pending] for the rating to be added later, or it will be removed.
SCP-087, created by haversine and released on January 28, 2012, is one of the first SCP games. It is a stair simulator and is based on SCP-087, The Staircase.
Rating: [★★★★★]
The Stairwell
Edit
The Stairwell was created by ZykovEddy on March 2 2012. A remake titled The Endless Stairwell was released on January 2014. More information was useful to write
SCP - Containment Breach
Edit
Main article: SCP - Containment Breach
SCP - Containment Breach was created by Regalis and released on April 5, 2012. The game includes many of the well-known SCP objects from the SCP Foundation site with the main antagonist being SCP-173. It is the subject of this wiki.
Rating: [★★★★★]
SCP-087-B
Edit
Main article: SCP-087-B
SCP-087-B is an unofficial sequel to SCP-087 and is similar to it, but with a different visual take on the stairwell structures and SCP-087-B. The game was created by Regalis on January 8, 2014. The game includes some enemies that attack the player if the player is not looking at them. This game is considered a stepping stone to SCP - Containment Breach.
Rating: [★★★★]
SCP-432, created by SkyMidnight Labs on 2012 is about exploring a canon SCP. To summarize the SCP, it holds the features of a storage cabinet with the inside almost representing a maze with SCP-432-1 roaming the maze looking for its next prey.
You play as a D-Class with the given objective of collecting 5 Artifacts and returning safely with the possessions. SCP-432. Equipped with a Flashlight and a couple of glowsticks you are left with very little light. You must also be on the watch for SCP-432-1 and the artifacts. Once you have the artififacts search for a metal door and escape the cabinet. Currently there is another game with the same idea with a different purpose which is about finding a box somewhere in the maze.
Overall it's a good game and you can have some good spooks from it.
PROS
Great Ambiance.
Simple Graphics.
CONS
Replayability is lost after some time
Hard to find the objectives
Rating: [★★★]
SCP: Ascension
Edit
This game has been canceled and rebranded into "In The Balance: Ascension". Kickstarter for this original project plan is actively being refunded, in addition to original supporters still gaining access to the rebranded game in the future. 
Rating: [★]
SCP Unity
Edit
SCP Unity is a modern spiritual successor to the original SCP - Containment Breach, made entirely on the Unity engine. Its first public Alpha build was released on October 14, 2017, featuring little content and only SCP-173 as the lone SCP. However, it has since expanded to include a larger scope of content as well as many other SCPs. It was created by a development team that is headed by Zornor90, Corvus and Error. While the game was originally considered a "port" (and later a remake) of SCP - Containment Breach, with updated graphics and aesthetic, the project has since been grown to boast a great amount of content than the original SCP - Containment Breach, including but not limited to further graphical improvements, new SCPs, and a completely different story.
Rating: [★★★★★]
The Lost Signal: SCP
Edit
The Lost Signal: SCP is an Android game created by Wing13 Games and released in December 2016. The game contains several SCP objects including SCP-1499, SCP-1497, SCP-1767, etc.
Rating: [★★★★★]
SCP: Secret Laboratory
Edit
SCP: Secret Laboratory is an online multiplayer game released on March 1st, 2017, created by Hubert Moszka. The game is currently in beta. It is created in the Unity Engine. Players are randomly assigned "factions", consisting of D-Class personnel, Mobile Task Force (Epsilon 11), Chaos Insurgency, Scientists, Facility Guards, and SCPs (049 and 049-2, 079, 096, 106, 173, 939-89, and 939-53). Each faction has a different objective and win-state (D-Class personnel and Scientists have to escape the facility; MTF and Facility Guards must neutralize Chaos Insurgency agents, D-Class, and SCPs; Chaos Insurgency must kill Scientists, Facility Guards, and MTF; SCPs must kill all other factions). The game was released on Steam on December 30th, 2017. It is a highly customizable game and modded game. The best multiplayer SCP game out there, FREE!
Future SCPs considered for the game include SCP-457 & SCP-966.
Rating: [★★★★★]
SCP: Liberation
Edit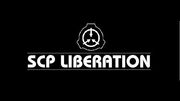 SCP: Liberation is a 2D SCP game based off Containment Breach and the SCP Foundation, made in a custom game engine. While similar to Containment Breach, it also contains new SCPs such as 2121 and XXXX. The game can be found on Game Jolt, Indie DB, and itch.io, and will be released during either version 1.1 or 1.1-2.
The official website can be found here.
On release, it will have over 200 in-game rooms to explore and a rich amount of content to enjoy and experiment with.
The game has a custom game engine made from nothing but core logic, effort and time. Currently being developed by one person "Aubarino / AubarinoEmpire" so the release may be delayed, but the longer it takes the more effort and content will be in the finished product. Better content-rich then rushed and sloppy.
[ Discontinued ] Hey, That pretty good -Aubarinos' community manager
SCP: Terminal
Edit
SCP: Terminal is the first Text Based SCP Game; and the first SCP Game to have the end goal of all the SCPs on the entire SCP Foundation wiki!. With a custom game engine / framework it is a very interesting project and is also one of the most unique SCP games seen for a while since Containment Breach.
It is text-based, but the game will be the largest SCP Game ever made! It will include every SCP on the wiki when it is done.
It will take a long time to finish, but each update will have a guaranteed large amount of new SCP's added to the game.
The IndieDB page can be found here
For updates and info on the game. you can find Aubarino on twitter! And also his discord group.
Being developed by Aubarino. (sort of)
Rating: [★★ (Creator says ★★★★★)]
(It seems as if the creator of the game was the one who wrote this article, we cannot get an accurate rating)
SCP - Isolation ( Older )
Edit
SCP - Isolation is an indie horror game formerly made by GreatCorn, which is currently being remastered by Storming Summit. Currently, the only official media are their Discord and YouTube Channel .
Rating: [★★★]
SCP Area 8
Edit
SCP Area 8 is an indie horror game created by Mykhailo Radzievskyi which was greenlit on Steam back in 2015 and is set for release on Steam in the second half of 2018. The game currently has 2 SCPs: SCP-173 and SCP-167.
Rating: [★★★]
SCP - Foundation Command
Edit
SCP - Foundation Command was a singleplayer game in development by Affray Studios. Due to lack of time and resources, it was canceled by the studio and open-sourced on GitHub .
Rating: N/A
SCP: Rebirth
Edit
SCP: Rebirth is a singleplayer game currently in development by Pig's Indie Games, first announced on June 14, 2018, with a teaser trailer. The game will feature numerous different SCPs and unique characters throughout the storyline, as well as numerous different endings. Certain assets from Containment Breach, such as SCP-173 and its neck-snap SFX, are reused for the game.
Rating: [★★]
SCP - Recovery
Edit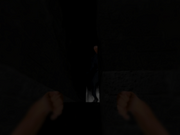 SCP - Recovery is a singleplayer SCP horror game in development where you play as an agent who's part of a team of agents who recover a lost foundation facility. The game's development is being kept private, however, it is currently in alpha and is planned for a 2023 release.
One of the plans for the game, in order to set it apart from other SCP horror games, is the ability to fight back against hostiles as a last effort. However, it should be made clear that this feature should not be abused; the game will encourage staying clear of threats - running and hiding - instead, and fighting back against threats should, again, only be treated as a last-ditch effort, especially since resources are tight, meaning the player will usually only have their fists to fight back. While it will be possible to fight back with random debris lying around the site, effective weapons are scarce, such as guns which are effectively rare, and ammo which is almost as rare.
Rating: [☆☆☆]
SCP-16p is a 2D survival videogame based on the redacted stories of the SCP Foundation.
Development started at 12/ 28/ 19 on Construct 2 game engine. Currently is on alpha and does not have a release date yet. You can see the proof of concept in his itch.io page .
The game is currently a Prototype. The game engine will change for better features.
Rating: [★]
SCP - The Endurance
Edit
The game has been in works since 2014, but the primal code was abandoned (outdated trailer here, was named Five nights in SCP facility). The code was rewritten and the game is playable, but there are a few things that have to be finished. A new trailer was released here to celebrate the Developers recent achievement of 500.000 subscribers. The game will be released on Gamejolt for free here .
The game is based on SCP:CB and popular game series Five Nights at Freddy's.
Rating: [pending]
SCP: Blackout
Edit
The Demo for this Virtual Reality game was released to steam on March 1st while the release date for the full version has not yet been announced. The devs are continually fixing bugs and updating the game even trough the demo. Here is the description provided on steam for the game: "A VR/Desktop game where you are a new D-Class personnel in a secret SCP research facility when everything falls apart. Use what you can find as you explore the facility, access logs to learn about the SCP entities in containment, and run for your life from the SCP entities that have escaped." You can download and play the demo for free here (Download link on the right-hand side of the screen, just scroll down a bit).
Rating: [★★★★★]
SCP - New View
Edit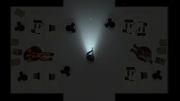 SCP - New View is a top-down horror shooter SCP game where you play as an MTF unit, attempting to salvage the situation during a containment breach. It was formerly known as SCP - Recontainment. The game will be available on GameJolt for free here . The development can also be followed on their Discord
Rating: [★★★]
SCP snaulX Edition
Edit
It is open-source game with mini-facility who was made in 48 hours (but continues to develop) on Unity by snaulX. But in version smaller then 0.1.6 SCPs haven`t abnormal abilities. SCPs on this moment (0.1.4 beta-release): SCP-096, SCP-173, SCP-1162 Future SCPs: SCP-049, SCP-106, SCP-079, SCP-914 and etc. Also in feauture will adds MTF, Guard, other zones and other more.
https://snaulx.itch.io/scp-snaulx-edition Website: https://wolnew.wordpress.com/scp-snaulx-edition/
Open-source code: https://github.com/snaulX/scp-snaulx-edition
Group in VK: https://vk.com/scp_snaulx_edition
Rating: [★]
note - improve graphics quality and translation grammer. [delete message]
087 - The Oh Eight Seven
Edit
087
is a psychological supernatural horror game that inspired by SCP-087-B. Actually, we (developers of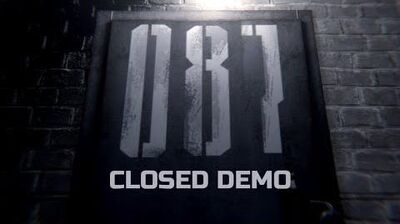 Conditional Team) think that SCP-087-B is good enough but also we believe it could be greater if it wasn't just a developer's experiment at beginning of a game developer carrier.
And we are going to break those barriers of stepping stone project. The team's target sounds like this: to create an interesting horror game with long narrative that will contain well-known original game mechanics and realize new gamedev trends. And we plan to achieve this target. And our more concrete goal is to close the 087 project that contains some things of the original game and realizes new story, beautiful, well-stylized graphics, good performance, and atmospheric sounds describing game-happening context. ...and our goal is to reach extraordinary level in arts of interactions.
Site: http://conditionalteam.com/
Our Patreon: https://www.patreon.com/ct_games, our VK community: https://vk.com/game_087,
Our email: info.conditionalteam@gmail.com

Rating: [☆]
The Coffee Machine
Edit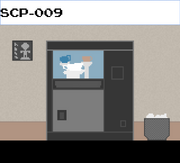 The Coffee Machine is a simple 2D game simulator of SCP-294 .
You as Dr. Bright are immortal and can test any drink your mad mind can think.
Updating constantly for new drinks and liquids, you can contribute with ideas in their forum .
SCP : Nukalypse
Edit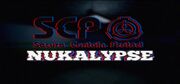 SCP : Nukalypse is an indie fan game inspired by SCP Secret Labratory and SCP Containment Breach.
You play as a D-Class traversing throughout a Russian facility in an attempt to escape the monstrous horrors that lie in the dark.
The game was put on hold after 2 months and is expected to get updates in the future.
Rating: [★★★★★]
Uncontained : An SCP Card Game
Edit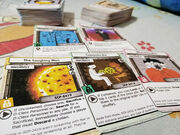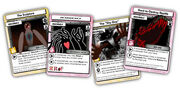 Uncontained is a digital and physical card game created by Kenomic Games inspired by casual card games like Unstable Unicorns.
Download the print & play PDF of the game for free at kenoma.itch.io/scp-card-game.
Get a physical copy of the game at www.thegamecrafter.com/games/uncontained.
Rating: [★★★½]
SCP: RAVEN
Edit
is a open-source game baCP-173 and uses the source code for a game called raven written for js13kgames.
You play as a MTF scp base in an attempt to restore camera power to recontain clones of SCP-173 which were made in an experiment.
Rating: [☆/pending]
SCP: Site-[REDACTED]
Edit
SCP: Site-[REDACTED] is a 2D SCP game made by tux_steve there is currently an open alpha ongoing by tux_steve [NOTE: This article was made by tux_steve [ANOTHER NOTE: The name of the game may be changed by tux_steve]
Rating: [☆/pending]
SCP: Recontainment
Edit
'SCP: Re'containment  ​is structured into different game modes giving a broad view of different multiplayer and singleplayer SCP scenarios. With currently over 30 SCPs, we aim to have the most comprehensive and ambitious SCP experience to date.
Containment Breach: Singleplayer, Co-op and Multiplayer Containment Breach based on the original game by Undertow Games.
Facility Creator: Create, design and play your own custom facilities in game using our facility editor.
Community Map Sharing: Share your custom facilities with the world using the in game facility browser.
Multiplayer Scenarios: Experience the best scenarios that SCP has to offer with up to 30 players per game.

Singleplayer Experiences: Take on story based horror experiences.
Frequent Content: New content will be frequently added based on community polls.
Community Focussed: An active development team that puts the community first.
play here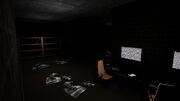 Rating: [pending]
SCP-3008: Lone Survivor
Edit
SCP-3008 is a game based on the SCP story with the same title, created by Thaumiel Games.
Explore the EKIA store, build a base out of furniture, eat some meatballs and try to survive the attacks of the mutated staff.
There is a variety of game mechanics, including scrapping furniture to gather crafting items, traps of all kinds, skill upgrades with different upgrade paths, power-ups, and more.
Development started in September 2017, and as of September 2019, the core team consists of N00MKRAD, two coders, and a concept artist.
The major releases are free, but to get the latest releases one need to subscribe to the creator's Patreon.
Home Page Thaumiel Games Patreon
Rating: [☆/pending]
SCP-087 VR Survivor
Edit
Virtual Reality survival rogue-like game based on the SCP-087 lore. You are scientist from SCP foundation inside SCP-087.
Game was released for Early Access in November 2019 on Steam.
Supports a number of Virtual Reality headsets.
Rating: [☆/pending]
Community content is available under
CC-BY-SA
unless otherwise noted.