The S-Nav is an equippable item in SCP - Containment Breach. The S-Nav is used for navigation, each individual square represents a room. There are 3 different variations of the S-Nav.
The default version of the S-Nav, the S-Nav 300 will need a 9V battery in order to function. S-Nav 300s can be found scattered throughout the facility, in offices, SCP-106's containment chamber, the small control rooms, server rooms, and sometimes hallways. Any rooms that have not been visited yet will remain hidden on the S-Nav 300.
By putting the S-Nav through SCP-914 on the "Fine" setting, the player can now view the entire map without exploring the area first. The S-Nav 310 is capable of informing the player where to go and which paths are dead ends. S-Nav 310s, however, still need batteries.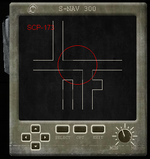 The S-Nav Ultimate retains all the properties of the S-Nav 310, however, it will no longer require batteries and can now detect every nearby SCP in the vicinity, including SCP-049, SCP-096, SCP-173, SCP-106, SCP-895 and all the other ones (For some reason not SCP-939). The S-Nav Ultimate can be obtained by putting the S-Nav 300 through SCP-914 on the "Very Fine" setting, or the S-Nav 310 on the "Fine" setting.
A small red ring and the name of an SCP will appear on the S-Nav Ultimate's screen if they are nearby. The smaller the ring is, the closer to the player it is. It is able to detect multiple SCPs in an area.
When near SCP-895's containment, the S-Nav will begin to scramble. When inside its room, the S-Nav will become severely scrambled. Despite this, the S-Nav Ultimate can still detect SCP-895's presence.
When any S-Nav is put through SCP-914 on the "1:1" setting, the "S-Nav Navigator" will be produced, which is identical in functionality to the S-Nav-300, but is displayed in red.
There was a bug in v0.7.4 where attempting to use the S-Nav Ultimate would cause a memory access violation.
Community content is available under
CC-BY-SA
unless otherwise noted.