SCP-008, the "Zombie Plague", is a bio-hazardous SCP object found in SCP - Containment Breach.
Description
SCP-008 is a complex prion, research of which is highly classified and primarily aimed at preventing research which may lead to the synthesis of SCP-008 in the distant future. Traits of the SCP -008 prion include:
100% infectiousness.
100% lethality.
Transmission through exposed mucous membranes and all bodily fluids.
Not airborne or waterborne.
SCP-500 has been recorded to completely cure the effects of SCP-008, even in the advanced stages of the disease.
In-game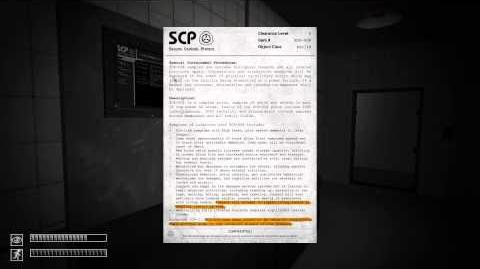 SCP-008's containment chamber can be accessed using a keycard of at least level 1. If the player approaches the canister containing SCP-008, it will burst open, shattering the nearby window of the control room. If the player is not wearing the Hazmat suit a piece of the broken window will cut their arm, prompting a message reading, "Something flew and cut your arm". After this has occurred, a soft screaming sound will commence and the player's vision faintly becomes red. After a period of time, the player will begin to hear auditory hallucinations.
A second message will appear reading,
"You feel like you have nausea..."
. The longer the player is infected with SCP-008, the more predominant the red in the player's vision will become and the louder the auditory hallucinations become.
After a period of time, another message will be displayed, reading, "You feel very sick...". Shortly after the message is displayed, the player will suffocate and suddenly be greeted by a scene where the player meets a researcher, who pleads for help. The player will eat the researcher, only to die shortly afterward.
SCP-008 and its side-effects can be cured completely by consuming a SCP-500 pill.
The gas emitted from the SCP-008 container has the same properties as decontamination gas.
Trivia
SCP-008, like SCP-500, was originally part of a third-party mod for the game made by forum user InnocentSam. After being played by game creator Regalis, both were added into the game in v0.7.
The hazmat suit currently does not protect the player from any effects caused by gas.
Even though it is a bio-hazardous SCP in the game, the label in its containment room does not have a warning by its picture.
The original version of SCP-008's Foundation article (created in 2008) labeled it as a Keter-class SCP object.[1] In December 2012, SCP-008 was edited and reclassified as Euclid due to how easy it is to contain.

The only thing stopping it from being a Safe-class object is that there are still unaccounted-for samples of it out in the world.
New players when first entering SCP 008s containment chamber for the first time are often startled by the proped up hazmat suit, as the hazmat suit looks as if someone is right there.

The original version was not useful, but after asking Regalis about it it was turned into heavy zone lock.
Gallery
References
List of SCPs
| Item Number | Object Class | Added In | Effects |
| --- | --- | --- | --- |
| SCP-008 | Euclid | v0.7 | Infects the player with a virus that slowly turns them into a zombie. |
| SCP-012 | Euclid | v0.7 | Causes the player to walk up to the composition and cut their wrist to finish it with their own blood. |
| SCP-035 | Keter | v0.9 | Attempts to manipulate the player into freeing it in exchange for advice on escaping the facility. |
| SCP-049 | Euclid | v0.7 | Chases the player down and turns them into SCP-049-2. |
| SCP-066 | Euclid | v1.0 | Rolls into the player and plays various sounds. |
| SCP-079 | Euclid | v0.1 | Causes doors to randomly open or close. Can also open Gate B. |
| SCP-096 | Euclid | v0.6 | Chases down and kills the player if they view his face. |
| SCP-106 | Keter | v0.1 | Walks through solid matter and chases the player. |
| | Euclid | v0.9 | When put through SCP-914 on coarse or rough and put an item it will get destroyed (not all the items),in 1:1 it will give you something similar to the item you put in SCP-914, then on Fine or Very Fine it will turn items to "Fine" items. |
| SCP-173 | Euclid | v0.1 | Moves at rapid speeds when the player is not looking at it and killing the player. |
| SCP-178 | Euclid | v1.1 | If worn, causes the player to see strange creatures that will attack if touched. |
| SCP-205 | Euclid | v1.2 | Two flood lamps that cast the shadow and events of a woman leading up to her death. |
| SCP-294 | Euclid | v0.8 | Allows the player to get a cup of anything they desire. |
| SCP-372 | Euclid | v0.2.1 | Follows the player and can be seen in the corner of the player's peripheral vision. |
| SCP-500 | Safe | v0.7 | Heals wounds, SCP-008, and symptoms gained from SCP-1025. |
| SCP-513 | Euclid | v0.8 | Can be rung to spawn SCP-513-1. |
| SCP-682 | Keter | v0.3 | "Breaches containment" and attacks a helicopter at Gate B. |
| SCP-714 | Safe | v0.6.4 | Shortens your sprint meter and negates the effects of SCP-012, SCP-049, SCP-420-J, SCP-895 and SCP-1025. |
| SCP-860 | Safe | v1.0 | A key that transports you to a forest. |
| SCP-895 | Euclid | v0.1 | Causes a heart attack if viewed with an electronic device. |
| SCP-914 | Safe | v0.1 | Refines items. |
| SCP-939 | Keter | v1.0 | Tries to lure the player with a human voice. |
| SCP-966 | Euclid | v1.2 | Humanoid entities that are only visible when using the night vision goggles. |
| SCP-970 | Euclid | v1.0 | An endless hallway. |
| SCP-990 | Keter | v0.1 | Appears on a random loading screen. |
| SCP-1025 | Safe | v0.7 | Causes the player to develop the symptoms they read about. |
| SCP-1048 | Keter | v1.0 | Appears to be a stuffed bear, moves away when player loses sight of it. |
| SCP-1048-A | Keter | v1.0 | Appears to be a stuffed bear shaped from what is believed to be human ears. May be found in some hallways and screams at the player if approached. The scream causes ears to grow all over the player and in the lungs which results in death after a few seconds. |
| SCP-1074 | Safe | v1.1 | A painting that will cause the player to fall in a catatonic state if watched for too long. |
| SCP-1123 | Safe | v1.1 | When touched, makes the player revive some experiences of an Jewish Holocaust victim during the Second World War. |
| SCP-420-J | Totally Safe | v0.1 | Stops blood loss and nausea. |
| SCP-789-J | Safe | v0.1 | An audio clip of it can be heard when entering the WC room. |
| Anomalous Ducks | Not Specified | v0.6 | Duckies!! |
Rejected SCPs
| Item Number | Object Class | Purpose | Reasons for Rejection |
| --- | --- | --- | --- |
| SCP-650 | Euclid | Meant to be a jumpscare when not observed at, similar to SCP-173 | Development Halted |
| SCP-689 | Keter | Player would have to maintain eye contact with it, or it would kill the player. | Too overpowered |
Referenced SCPs
These are SCPs which have been mentioned in the game but are not seen in-game.
See also