SCP-372, also known as the "Peripheral Jumper", "The Pray Mantis", "The Insect/Bug" is an SCP object that can be encountered in SCP - Containment Breach.
Description
Edit
SCP-372 is a creature of unknown genus, approximately 2 meters long from head to tail and weighing approximately 45 kilograms. It has a long, thin body with eight pairs of narrow limbs. Every part of the body is abnormally flexible, and the limbs are coated with small fibers that cling to almost any solid surface.
In place of eyes or ears, it has a yellow sensory organ which is capable not only of echolocation, but also of detecting energy transfers, such as the electrical impulses in the brains of nearby beings. SCP-372 has learned to time these movements to those pulses, predicting the movements of any being around it. It uses this technique to hide, either by hiding behind the head of a person looking for it, or by hiding in their scotomas (blind spots) and saccades (clipping during eye movement).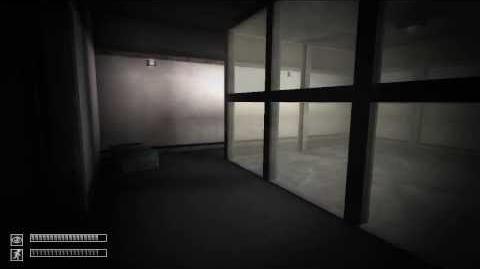 Upon entering SCP-372's containment chamber, a rustling sound is heard, meaning that SCP-372 has started to stalk
the player
. By turning very quickly or blinking rapidly, the player, on occasion, can see SCP-372 out of the corner of their view, similar to SCP-513-1. SCP-372 sometimes makes noises while stalking the player throughout the game, and will stalk the player until death.
372 is humorously called PJ in the games files in place of 372 (PJ = Periphreal Jumper) in reference to pajamas.
He is a lot like SCP-513, except you can't see him.
SCP-372 was implemented in order to replace SCP-513-1.
SCP-372's placeholder model is a contorted version of SCP-106's old model and his face is a green recolor of the original SCP-513-1.
By turning on wireframe in the console and holding down the blink button, SCP-372 can be seen flying across the view.
He looks like a lizard, hence his nickname.
Regalis has expressed a love for SCP-372, one of the reasons for him replacing SCP-513 as he thought his design was more practical and nicer.
The author of SCP-372, known as Sylocat, once commented about the sensory organ that was redacted from the original article (the comment can be seen here). The "yellow orb" that SCP-372 possesses is supposed to pick on auditory and visual information in a way similar to echolocation.
List of SCPs
| Item Number | Object Class | Added In | Effects |
| --- | --- | --- | --- |
| SCP-008 | Euclid | v0.7 | Infects the player with a virus that slowly turns them into a zombie. |
| SCP-012 | Euclid | v0.7 | Causes the player to walk up to the composition and cut their wrist to finish it with their own blood. |
| SCP-035 | Keter | v0.9 | Attempts to manipulate the player into freeing it in exchange for advice on escaping the facility. |
| SCP-049 | Euclid | v0.7 | Chases the player down and turns them into SCP-049-2. |
| SCP-066 | Euclid | v1.0 | Rolls into the player and plays various sounds. |
| SCP-079 | Euclid | v0.1 | Causes doors to randomly open or close. Can also open Gate B. |
| SCP-096 | Euclid | v0.6 | Chases down and kills the player if they view his face. |
| SCP-106 | Keter | v0.1 | Walks through solid matter and chases the player. |
| | Euclid | v0.9 | When put through SCP-914 on coarse or rough and put an item it will get destroyed (not all the items),in 1:1 it will give you something similar to the item you put in SCP-914, then on Fine or Very Fine it will turn items to "Fine" items. |
| SCP-173 | Euclid | v0.1 | Moves at rapid speeds when the player is not looking at it and killing the player. |
| SCP-178 | Euclid | v1.1 | If worn, causes the player to see strange creatures that will attack if touched. |
| SCP-205 | Euclid | v1.2 | Two flood lamps that cast the shadow and events of a woman leading up to her death. |
| SCP-294 | Euclid | v0.8 | Allows the player to get a cup of anything they desire. |
| SCP-372 | Euclid | v0.2.1 | Follows the player and can be seen in the corner of the player's peripheral vision. |
| SCP-500 | Safe | v0.7 | Heals wounds, SCP-008, and symptoms gained from SCP-1025. |
| SCP-513 | Euclid | v0.8 | Can be rung to spawn SCP-513-1. |
| SCP-682 | Keter | v0.3 | "Breaches containment" and attacks a helicopter at Gate B. |
| SCP-714 | Safe | v0.6.4 | Shortens your sprint meter and negates the effects of SCP-012, SCP-049, SCP-420-J, SCP-895 and SCP-1025. |
| SCP-860 | Safe | v1.0 | A key that transports you to a forest. |
| SCP-895 | Euclid | v0.1 | Causes a heart attack if viewed with an electronic device. |
| SCP-914 | Safe | v0.1 | Refines items. |
| SCP-939 | Keter | v1.0 | Tries to lure the player with a human voice. |
| SCP-966 | Euclid | v1.2 | Humanoid entities that are only visible when using the night vision goggles. |
| SCP-970 | Euclid | v1.0 | An endless hallway. |
| SCP-990 | Keter | v0.1 | Appears on a random loading screen. |
| SCP-1025 | Safe | v0.7 | Causes the player to develop the symptoms they read about. |
| SCP-1048 | Keter | v1.0 | Appears to be a stuffed bear, moves away when player loses sight of it. |
| SCP-1048-A | Keter | v1.0 | Appears to be a stuffed bear shaped from what is believed to be human ears. May be found in some hallways and screams at the player if approached. The scream causes ears to grow all over the player and in the lungs which results in death after a few seconds. |
| SCP-1074 | Safe | v1.1 | A painting that will cause the player to fall in a catatonic state if watched for too long. |
| SCP-1123 | Safe | v1.1 | When touched, makes the player revive some experiences of an Jewish Holocaust victim during the Second World War. |
| SCP-420-J | Totally Safe | v0.1 | Stops blood loss and nausea. |
| SCP-789-J | Safe | v0.1 | An audio clip of it can be heard when entering the WC room. |
| Anomalous Ducks | Not Specified | v0.6 | Duckies!! |
Rejected SCPs
| Item Number | Object Class | Purpose | Reasons for Rejection |
| --- | --- | --- | --- |
| SCP-650 | Euclid | Meant to be a jumpscare when not observed at, similar to SCP-173 | Development Halted |
| SCP-689 | Keter | Player would have to maintain eye contact with it, or it would kill the player. | Too overpowered |
Referenced SCPs
These are SCPs which have been mentioned in the game but are not seen in-game.
Community content is available under
CC-BY-SA
unless otherwise noted.