SCP-682
Info
Object Class
Keter
Animate?
Yes
Harmful?
Yes
SCP Link
SCP-682
Gallery
SCP-682, also known as "Hard-To-Destroy Reptile," is a violent and hostile SCP, and the quaternary antagonist of SCP - Containment Breach. The large, reptile-like creature is described as one of the Foundation's most dangerous SCP objects.
Description
SCP-682 is a large, vaguely reptile-like creature of unknown origin. He appears to be extremely intelligent and was observed to engage in complex communication with SCP-079 during their limited time of exposure. SCP-682 appears to have a hatred of all life, which has been expressed in several interviews during containment.
SCP-682 has always been observed to have extremely high strength, speed, and reflexes, though exact levels vary with his form. SCP-682's physical body grows and changes very quickly, growing or decreasing in size as he consumes or sheds material. SCP-682 gains energy from anything he ingests, organic or inorganic. Digestion seems to be aided by a set of filtering gills inside of SCP-682's nostrils, which are able to remove usable matter from any liquid solution, enabling him to constantly regenerate from the acid he is contained in. SCP-682's regenerative capabilities and resilience are staggering, and SCP-682 has been seen moving and speaking with his body 87% destroyed or rotted.
In-game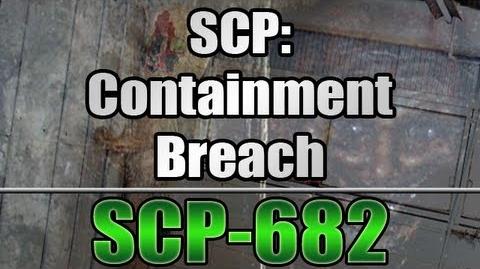 SCP-682 so far does not appear in the game, but he can be heard roaring once in a while throughout the facility and will smack a helicopter out of the air at Gate B with his arm, making it crash.
Trivia
SCP-682 has his own video game, named Six-Eight-Two: Hard-to-Destroy Reptile (being his designation written out in words, Six-Eight-Two, and his title, Hard-to-Destroy Reptile) which is confirmed to be canon with SCP: CB. Although unlike SCP: CB, the other game is still in early development and hasn't been updated for a while, meanwhile SCP: CB is basically finished at this point.
682 is the second most famous SCP next to SCP-173, the original SCP.
A scary event was added in the original version of the game where he roars and fights the Foundation.
SCP-682 is seen as a god by some.
The helicopter he attacks could be a reference to the ROFL copter meme.
SCP-682's profile photo was made by his author himself, created with flesh and fleshy materials near his hometown and photographed by a friend of his. Apparently making SCP-682 was hard, and the real flesh that was used for its creation rotted in the sunlight, making a very nauseous smell that almost made them sick.
Due to the nature of his appearance, all that can be seen is a black, unidentifiable object slapping the helicopter.
The game was originally going to use the SCP-682 model from the game Six-Eight-Two in the game, however, according to the developers, the model can't work in the game.
SCP-682 is a famous SCP, mostly for it being a good, well-written SCP by a famous SCP author, who's written a lot of SCPs including SCP-914 and SCP-106 which are in the game, and is well known in the SCP community.
Gallery
List of SCPs
| Item Number | Object Class | Added In | Effects |
| --- | --- | --- | --- |
| SCP-008 | Euclid | v0.7 | Infects the player with a virus that slowly turns them into a zombie. |
| SCP-012 | Euclid | v0.7 | Causes the player to walk up to the composition and cut their wrist to finish it with their own blood. |
| SCP-035 | Keter | v0.9 | Attempts to manipulate the player into freeing it in exchange for advice on escaping the facility. |
| SCP-049 | Euclid | v0.7 | Chases the player down and turns them into SCP-049-2. |
| SCP-066 | Euclid | v1.0 | Rolls into the player and plays various sounds. |
| SCP-079 | Euclid | v0.1 | Causes doors to randomly open or close. Can also open Gate B. |
| SCP-096 | Euclid | v0.6 | Chases down and kills the player if they view his face. |
| SCP-106 | Keter | v0.1 | Walks through solid matter and chases the player. |
| | Euclid | v0.9 | When put through SCP-914 on coarse or rough and put an item it will get destroyed (not all the items),in 1:1 it will give you something similar to the item you put in SCP-914, then on Fine or Very Fine it will turn items to "Fine" items. |
| SCP-173 | Euclid | v0.1 | Moves at rapid speeds when the player is not looking at it and killing the player. |
| SCP-178 | Euclid | v1.1 | If worn, causes the player to see strange creatures that will attack if touched. |
| SCP-205 | Euclid | v1.2 | Two flood lamps that cast the shadow and events of a woman leading up to her death. |
| SCP-294 | Euclid | v0.8 | Allows the player to get a cup of anything they desire. |
| SCP-372 | Euclid | v0.2.1 | Follows the player and can be seen in the corner of the player's peripheral vision. |
| SCP-500 | Safe | v0.7 | Heals wounds, SCP-008, and symptoms gained from SCP-1025. |
| SCP-513 | Euclid | v0.8 | Can be rung to spawn SCP-513-1. |
| SCP-682 | Keter | v0.3 | "Breaches containment" and attacks a helicopter at Gate B. |
| SCP-714 | Safe | v0.6.4 | Shortens your sprint meter and negates the effects of SCP-012, SCP-049, SCP-420-J, SCP-895 and SCP-1025. |
| SCP-860 | Safe | v1.0 | A key that transports you to a forest. |
| SCP-895 | Euclid | v0.1 | Causes a heart attack if viewed with an electronic device. |
| SCP-914 | Safe | v0.1 | Refines items. |
| SCP-939 | Keter | v1.0 | Tries to lure the player with a human voice. |
| SCP-966 | Euclid | v1.2 | Humanoid entities that are only visible when using the night vision goggles. |
| SCP-970 | Euclid | v1.0 | An endless hallway. |
| SCP-990 | Keter | v0.1 | Appears on a random loading screen. |
| SCP-1025 | Safe | v0.7 | Causes the player to develop the symptoms they read about. |
| SCP-1048 | Keter | v1.0 | Appears to be a stuffed bear, moves away when player loses sight of it. |
| SCP-1048-A | Keter | v1.0 | Appears to be a stuffed bear shaped from what is believed to be human ears. May be found in some hallways and screams at the player if approached. The scream causes ears to grow all over the player and in the lungs which results in death after a few seconds. |
| SCP-1074 | Safe | v1.1 | A painting that will cause the player to fall in a catatonic state if watched for too long. |
| SCP-1123 | Safe | v1.1 | When touched, makes the player revive some experiences of an Jewish Holocaust victim during the Second World War. |
| SCP-420-J | Totally Safe | v0.1 | Stops blood loss and nausea. |
| SCP-789-J | Safe | v0.1 | An audio clip of it can be heard when entering the WC room. |
| Anomalous Ducks | Not Specified | v0.6 | Duckies!! |
Rejected SCPs
| Item Number | Object Class | Purpose | Reasons for Rejection |
| --- | --- | --- | --- |
| SCP-650 | Euclid | Meant to be a jumpscare when not observed at, similar to SCP-173 | Development Halted |
| SCP-689 | Keter | Player would have to maintain eye contact with it, or it would kill the player. | Too overpowered |
Referenced SCPs
These are SCPs which have been mentioned in the game but are not seen in-game.
See also